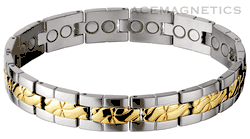 New, Our 1AG Style With Powerful Rare Earth Neodymium Magnets & Calming Germanium Stone Inserts.
Warning: With Great Power Comes Great Responsibility..Wear it with Confidence & Respect The Bracelet.
Brand New with 2 magnets at 7000 gauss per link make this style the one to own! Feel the weight (two ounces), this is a quality piece of magnetic jewelry that looks great on the golf course or on the town and especially while doing some very serious negotiating in the boardroom.
At 1/2 wide "Every Mans" Favorite is Every Mans best gift this holiday season.
Our Proven Design is Crafted with all the Features our Customers Demand & One New One. i.e. Consider the Following:
This Manly Stainless Steel magnetic bracelet has two powerful north facing laser point neodymium magnets per link. Your "Every Mans Favorite" also has two negative ion producing ultra pure germanium inserts. A calmer you standing over those previous knee knocking 5 footers is now "the picture of calm on the green" Hey, You have to believe it first, then make it happen!
If you are on the first tee or out for a casual night on the town your confidence will shine through with this choice. Get on the right team and go with a winner and not just any winner but our hero "Every Mans Favorite" the #1 magnetic bracelet seen Everywhere Great golf & Great Men Play to Win.
Lets begin to get acquainted
with germanium and if you would like to read even more the link below will be useful to you.
As you may have heard and experienced yourself our current urban lifestyle exposes the human body to harmful positive ions generated from such things as mobile phones, electronic equipment, chemicals or acid rain and ultraviolet rays to name a few of the things that can bombard us every day. Hence, a balance between the positive ions (which are bad for us) and the negative ions (which are good for us) is the goal to achieve. The negative-charge ion from Germanium it is said can help to contribute in helping to balance the positive and negative ions within the body.
Think of Germanium as helping you to replicate how you feel when you go to the ocean and take in all those negative ions or what it feels like to go out after a rainstorm.
Lets delve deeper
A germanium atom has thirty-two electrons with four of them constantly moving unsteadily along its outermost shell. These four electrons are negative-charge carriers. One of these four electrons will be ejected out of its orbit once the temperature is above 32 degrees Celsius. The remaining three electrons will seize an electron from other atoms in order to maintain balance. In essence, once in contact with the human skin, the negatively charged electrons from the millions of Germanium atoms will attract the harmful positively charged electrons from the body and so on and so on...... very interesting - don't you think?
About the metal used to craft this piece
Stainless Steel is both Durable and Dependable and will not turn your wrist green the way a copper bracelet is supposed to do.
Every Mans Favorite
is only available at AceMagnetics.com .
Sizing: 7.25, 8 & 8.5 & 9 inches. Please MEASURE your wrist and pick the size that is slightly larger than your actual wrist size. For instance if your wrist size is 7.125' select the 7.25, if your wrist size is 7.5 select the 8' & so on. These bracelets need not fit tightly and can be worn on either wrist.
Let's recap & take a look again at the reasons you're considering this piece and the reasons we think it is the best buy on the market.
1)
Two 3500 gauss permanent neodymium magnets in every link or 18, 20 or 22 magnets per size.
2)
Two 99.99% Pure Japanese Germanium Insert Stones in each bracelet, Not Powder.
3)
18K Polished Gold Tone with Brushed Stainless Borders
4)
Durable & Dependable Stainless Steel
5)
Neodymium Magnets Will lose only 1% of their strength every 10 years & are therefor considered permanent
6)
Clasp: Fold Over Snap Style for a "fits like a glove feel"
7)
1AG or "Every Mans Favorite" is Clearly a Winning Choice when it comes to Wellness Products & Game Day Style"
8)
Only Available at AceMagnetics.com
We package this selection in a simple white unisex jewelry box ready to be gift wrapped. Lastly we would like to say thank you so much for continuing to refer your 1000 closest friends to our website, we really appreciate the incredibly strong support.(One or two is most appreciated)
Shipping Methods & Rates: All W/ Tracking & We Ship EveryDay.
First Class 3- 5 Days: Free with Min. $25 Purchase
Priority Mail Flat Rate: 1-3 Days $6.00
USPS Express Mail: 1-2 Days $30.00
Our 60 day unconditional money back guarantee allows you to shop with confidence and comfortably get you through any sizing exchange you may require as well. (BUT PLEASE MEASURE YOUR WRIST FIRST)
Take a closer look - with our "Click to Enlarge" feature underneath the bracelet picture for a close up.
Click Here For More Interesting information about Germanium